By Tracy A. Brown
Reading other people's diaries has long been a guilty pleasure of mine. Thanks to the publishing of their private writings, I've painted along with Alfred Munnings, peeked at the tortured existences of John Cheever and Virginia Woolf, and ventured into Studio 54 with Andy Warhol—to name just a few. So when NSLM's George L. Ohrstrom, Jr. Head Curator Claudia Pfeiffer asked me to transcribe the portrait painter Ellen Emmet Rand's handwritten diaries in preparation for the Leading The Field: Ellen Emmet Rand exhibition now on view through March 22, 2020, it was my dream job come true–not only for the vicarious thrill, but for the honor of being part of the behind-the-scenes preparation of an NSLM exhibition.
In 2016, Claudia had painstakingly photographed Rand's diaries (held in the University of Connecticut's Archives and Special Collections*) page by page, and for the next couple of years a few of us Visitor Services Associates attempted to decipher Rand's handwriting—which was no easy task. As Rand probably didn't foresee her diaries being transcribed or published, she was a bit fast and loose with the punctuation and spelling. But apparently reading my grandmother's "chicken-scratch" letters as a child had prepared me well, and I enjoyed solving the puzzle of every sentence. It helped that much of Rand's vocabulary was from my grandparent's era, as well: photographs were "Kodaks," sick people felt "punk," odd ones were "queer," and most children "cunning." She wrote descriptively about her portrait subjects, and was often amusing:
Thursday, May 23, 1935
"I worked very hard today, + if I did not make the portraits good, at any rate I made them liked by the family – I got Mr Clay about finished, he has been too ravishing all day, with twinkling eyes + a running nose, humming Yankee doodle perfectly in tune. I've yet to see his equal for charm."
History is not a topic I've studied with enthusiasm in the past, but through Rand's diaries I got a personal account of the news of the day, such as the Lindbergh baby kidnapping and trial (at which Rand was in the audience sketching), the Hindenburg disaster and disappearance of Amelia Earhart, as well as the crash of the stock market, the Great Depression, and the events in Europe leading up to WWII. Rand was invested in not only her family, community, and church, but the happenings of the world at large:
Tuesday, December 31, 1940
"The war news is of such a nature that just today I did not turn on the radio much – just too disheartening…how can we be cheerful with the world in such a terrible state + England most of all – humans are strange things + will dance to the bitter end + insist on happiness, until it is taken by force."
I'd thought the diaries would be largely about art, since Rand was a hugely successful painter. But over the years painting seems to have become chiefly a business to her, means to badly-needed income to support her family. As the effects of the Great Depression were realized, her worry became palpable. She agonized over unpaid bills and overdue portrait fees and raged at income tax time. As a result, her health and spirits began to flag.
Saturday, January 7, 1933
"…life on the whole has such a precarious undertone that at times it is a bit unreal & I don't dare to enjoy it — I realize that everything depends on me + my work is so threatened just now."
Monday, November 13, 1939
"…I am ashamed that my life is so controlled by my finances my happiness + content + discontent are all trackable to whether or not I have the price, not to indulge but just to live + pay bills."
Surprisingly, Rand was largely without ego for one so successful; even in her private diary she never bragged.
Tuesday, April 18, 1933
"…I dropped my card at the White House, it may and it may not bear fruit, at any rate it's the best I could do."
Wednesday, August 9, 1933
"…Today was mostly notable for the fact that I did get a real honest to god order to paint President Franklin D. Roosevelt for the White House. I had a letter from Eleanor Roosevelt in which she said that he wanted me to paint him …I may go over there tomorrow to see him, or at least see the light."
Friday, November 24, 1933
"…I worked practically all day on F.D.R's portrait + if I'm not greatly mistaken I improved it, but I may be greatly mistaken."
It was difficult to witness Rand's self-esteem decline over the years:
Friday, April 21, 1933
"I rose up early, with something like pessimism in my chest – feeling that my portrait was not too good…last night I made a sketch of myself at about 12.30 in the mirror, just to get my hand in, it was quite good and quite like me but so hideous that it would knock your eye out."
Tuesday, April 10, 1934
"The first shock I got today was my picture in both Herald Tribune + Times both photos were so ugly that I could not shake it off but just felt hideous all day, in spite of which I brought a new… dress…trying to get some self respect I suppose, my looks are getting so offensive to me that I can no longer laugh it off."
The diaries are chock full of minutiae, as Rand habitually recorded not only the comings and goings of her family and various guests, but also the more intimate ups and downs of married life. Rand's portrait of William Blanchard Rand, her husband of 30 years, hangs at the top of the stairs in Leading The Field, and on my morning rounds through the museum I mutter a few choice words at him as I pass by—because I know intimately the pain and humiliation his dalliances and absences caused Rand, although she tried to rise above it:
Thursday, July 24, 1930
"…I was out of sorts from early morning on account of not being able to locate Blanchard, + I am in a general sense enraged at his being at Lebanon so much of the time – Then I painted very indifferently and accomplished practically nothing."
Thursday, February 1, 1934
"…Edith is of course going to Virginia with Blanchard. I wonder if she is planning to take my saddle as well as my husband, well I can't do much about her taking him, or him taking her, but my saddle is still mine. "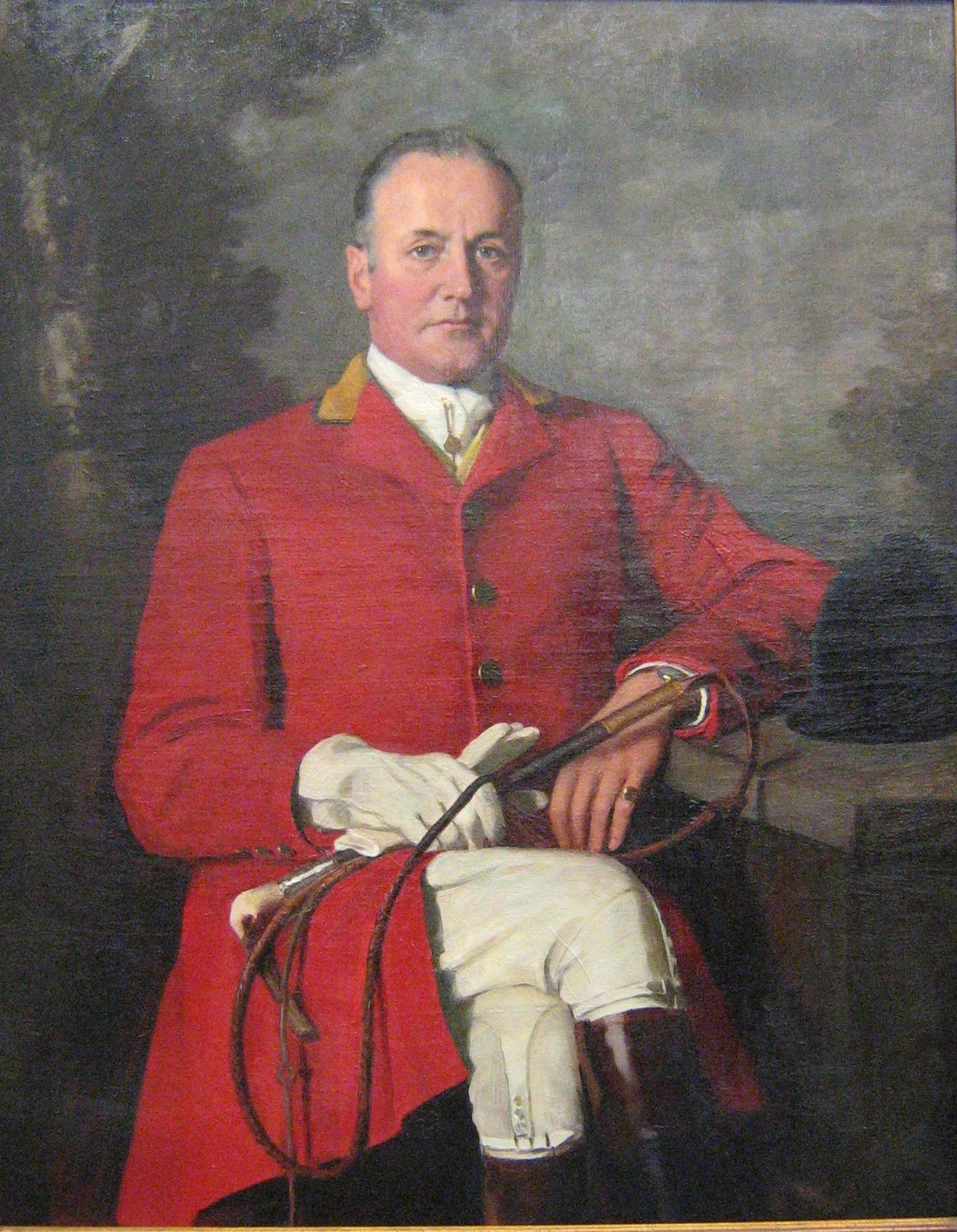 Of course there are two sides to every story, but I only have access to hers, and what an engrossing story it was. It pained me to reach the final entry—Thursday, May 8, 1941—when Rand abruptly announced the end of her daily record. She died a few months later. 
"I will close indefinitely writing my diary. I think I will begin again in July, my fingers are still queer + numb + though they hardly ever hurt, they are awkward when I write… It does not bother me to paint I am at it every day. Today was bad, in more ways than one. I got on poorly with M.W. Clement who posed rather spasmodically…The weather was poor…Well better luck will be reported when I take it up again. Anyway…tomorrow may be brighter – until probably July then goodbye."
It's my understanding that relatively few people have read Rand's handwritten diaries, so I consider it a privilege to have helped transcribe them. I hope she doesn't mind. And I hope visitors will come in droves to see her amazing work at NSLM.
*All quotes are from diaries held in the Ellen Emmet Rand Papers, Archives & Special Collections, University of Connecticut, Storrs, CT, Finding Aid
---
Tracy Brown is a Virginia Commonwealth University School of the Arts graduate and retired commercial artist-turned-fine artist. She has served the National Sporting Library & Museum as a Visitor Services Associate for nearly three years. She also rides, hikes, and raises Angus cattle on her farm in Culpeper, VA.